We can't wait to see you on Saturday.
We have a few points of order to help make the day as smooth as possible:
Registration opens at 12:00 sharp and ends at 3:00.
Registration will be by LAST name on your EventBrite ticket. You will need to bring either a printed Eventbrite ticket, or show the app on your phone. If you don't have a paper ticket or the phone app, you can use your ID to pick up your ticket. There's a link at the bottom of the page for you to get your paper or electric ticket as well. Please be ready when you get to the top of the line. We'll be checking in hundreds of you and nobody wants to be stuck behind the person who doesn't have any of their stuff ready.
Last Name
"A – E" – Mija Cantina – 1 South Market Street
"F – M" – Paddy O's – 33 Union Street
"N – Z" – The Tap – 19 Union Street
Once you register you will get a special wristband. You'll need this wristband for access to all bars on the crawl. We have 4 different time slots with 3 to 4 bars at each slot. You will get the schedule at which bars to be at during our scheduled times. During these time slots, the bars will only accept people with the wristbands. The bouncers will be checking for wristband and we've also hired our own personal security to make sure ticketed crawlers are taken care of. Please don't put your wristband on too tight. We have a limited number available.
We will have about 50 total tickets available for day of sales for wristbands only for $30 which will get you access to all of the bars, drink specials and food. These are on a first come, first serve basis. EXACT CHANGE ONLY. They can be purchased at either Mija Cantina, Paddy O's or The Tap beginning at 12:00.
Bar schedule:
You will receive the entire schedule when you register. All the bars will be in the Faneuil Hall and Financial District areas. We are not releasing the schedule prior to the crawl to avoid crawl crashers (we've already seen the Facebook and Twitter posts). We want to keep this event as exclusive as possible for your own comfort. Please note, the bars have the right to refuse entry to anyone due to bar capacity or personal incapacity.
CASH IS KING
I know that bringing your card might be easy. But when tons of people are trying to order drinks, it takes a lot more time to open and close a tab than to pay with cash. Plus you'd be surprised about how many people forget to close their tabs at the end of the night and leave for home without their credit cards.
Need a ride? For new users, use code CrawlBos and get $20 off your ride from Uber.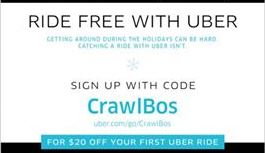 Remember to drink responsibly.
Please like us on Facebook
Follow us on Twitter @crawlinboston
Have a great time on Saturday!
Upcoming Events:
Valentine's Crawl on 2/8/13. Early bird tickets on sale now. Price increases next Wednesday.