LLL
I always bring something for the Southie Parade Parties. And the St. Patrick's Day pudding shots are always a crowd favorite.
Here's the recipe I use
1 small box of INSTANT vanilla pudding
3/4 Cup Milk
1/3 Cup Vodka
1/2 Cup Creme de Menthe
8 oz Cool Whip
Mix the pudding mix with the milk. Then add the booze and mix. Next up add the cool whip and mix. Put into freezer for about an hour and ready to go.
Our friends at S3 Boston are organizing a St. Patrick's themed bar crawl.
More info below.
Green Eggs and Hammered – St. Patty's Day Bar Crawl!
Saturday, March 10, 2018
Join us on 3/10 to tour the bars of North Station!
Your ticket includes: Crawl T-shirt, Koozie, St. Patrick's Day swag, $4 drink or less at every bar (except for Boston Beer Works), complimentary buffet at the first location, no covers at scheduled bars.
*T-shirt guaranteed for purchases before 3/1!
Tickets will not be sold at the door!
Check out the photos from 2017!
Check out the photos from 2016!
Check out the photos from 2015!
Check out the photo's from 2014!
—————————————–
The full schedule and additional details will be sent to participants a week before the event!
—————————————–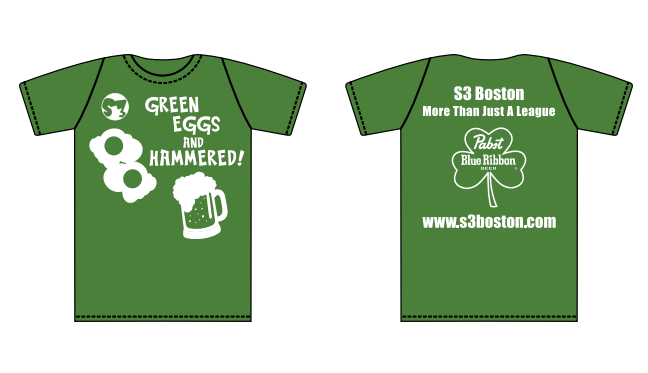 —————————————–
Tickets are non-refundable. You must arrive by 1:00 or your ticket and shirt may be resold.
Each venue reserves the right to reserve entry or remove participants from venues for any reason including drunk, disorderly, aggressive or abusive behavior. Tickets are non-refundable if you are removed from the bar.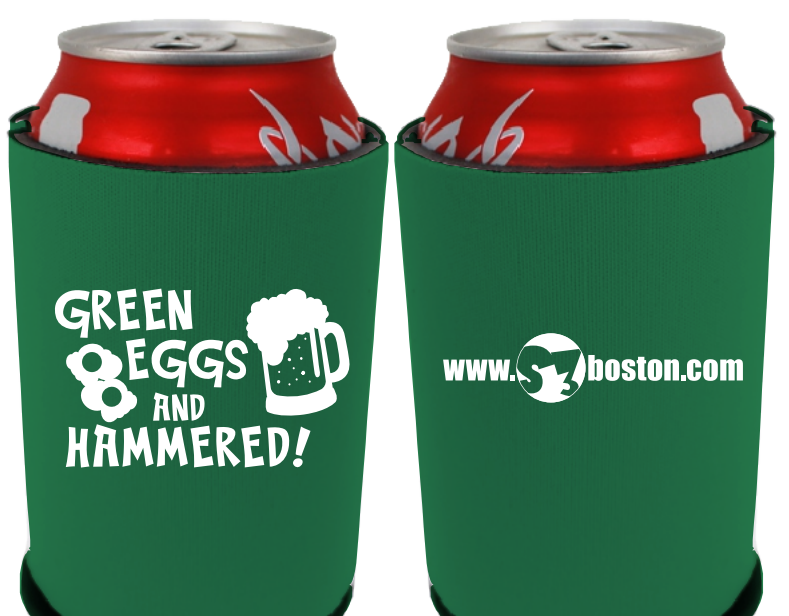 Questions? Email info@s3boston.com
Thanks for coming. We had a blast with you. Our first ever Lucky Leprechaun Lap was a success. Looking forward to seeing you again soon.
The Pictures are now posted here
Or if you like to tag they can be found on Facebook as well
Upcoming stuff…
Our next crawl will be in May. We're still working on a theme. Stay tuned.
Harry Potter Trivia in April is sold out but we're doing a Friends themed night in May.
And the peoples champion Pirate Crawl / Booze cruise is back in June. Tickets are available now.
Follow us on Twitter @crawlinboston
Good Morning
Looking forward to seeing you in a few hours for our first ever Lucky Leprechaun Lap
A few last minute notes
Registration is at Kinsale from Noon – 1:45 and Blackstone from 2:00 – 3:00
Picture booth will be 1:00 – 1:30 at Paddy O's. The Limbo contest will be at Warehouse at 5:15.
We're all out of tickets, there won't be any day of sales.
Word of warning: there are  3 other St. Patrick themed crawls in the Faneuil area today. We've seen their schedules and worked with our bar managers to avoid a conflict as much as possible. That said, these crawls use an open schedule so it's hard to predict which bars they will be at. We anticipate a smooth day but if you find a super long line we advise to skip to the next bar on the schedule and come back later.
Have an awesome time and take plenty of pictures!  Please drink responsibly and utilize public transportation.
UPDATE: SOLD OUT. SEE YOU TOMORROW
Hello Crawlers!
We are extremely humbled by the amount of interest in our event especially over the past week. I never thought we'd come close to selling out. Luckily (no pun intended) I was able to contact our vendor earlier this week to get extra beards delivered (they arrived last night). I should have ordered more as they're just about all gone as well. We expect to sell out of all our tickets today. Previously we were going to have day of tickets available but we've hit our cap. We're not going to sell you a ticket without you getting a swag bag.
Registration info is available here.
In a nutshell
12:00 – 1:45 – Kinsale – 2 Center Plaza
2:00 – 3:00 – The Blackstone Grill – 15 Union Street
See you tomorrow! Cheers!
4 days to go and about 20 tickets left for the Lucky Leprechaun Lap on Saturday.
Your ticket includes: $3 or less drink option at each bar, Leprechaun Hat with Beard, Shamrock Glasses, Koozie, Drawstring Backpack, Temporary Tattoos, Photo Booth, Limbo Contest with prizes for winners and No Covers at Scheduled Bar.
Harry Potter Trivia in April is sold out but we're doing a Friends themed night in May.
The Pirate Crawl / Booze cruise tickets in June are available now.